i love pizza! and i love buffalo chicken strips! and when i first found out that the two could join together to make an awesome pizza, i was even
more
excited! so, it became my mission to find a vegan pizza recipe that would do the original justice.
luckily, i have vegweb.com, which is pretty much the vegan equivalent of allrecipes.com. i love my cookbooks, but i also love the sites devoted to collections of user-created and reviewed recipes, because you can look up anything and chances are, someone else probably thought of it. the trick with these sites is checking out the other user's reviews
before
you actually make the recipe. let's face it, any hack with a computer can throw a bunch of ingredients and cooking instructions together on a free website, but that doesn't mean it'll taste any good!
so, when i found this pizza recipe, i was happy to see that it got rave reviews and i was even happier when there was a party in my mouth while i was eating it.
now, before everyone starts going "ehhh, what's tempeh? that cheese-stuff probably tastes gross. tofu on a pizza? ewww!" i'll admit that nothing is as scary as the unknown, so i'll familiarize you "normals" with some of the lesser known ingredients:
earth balance margarine:
this THE choice when it comes to vegan margarine. it is all purpose, so you can achieve great results with it while you are cooking OR baking and it's also pretty rock n roll when you just wanna spread it on a piece of bread or toast. i think the taste and consistency stacks up against any other margarine or butter out there. there's absolutely no whey or lactose, it's gluten free, non-GMO, has no hydrogenated oils and is naturally cholesterol-free. um, how can you beat that? ya can't.
tempeh (tem-pay):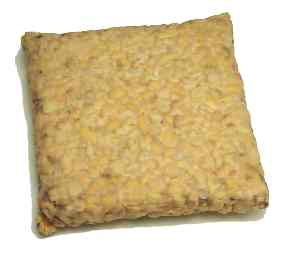 tempeh is a traditional soy product originally from indonesia. it's made by a natural culturing and controlled fermentation process that binds soybeans into a cake form, similar to a very firm veggie burger. unfortunately, it looks more like a puke burger, which can be offputting, but believe me, it tastes better than it looks and it makes an awesome substitute for meat. although tempeh is made from soy, it has more of a textured and nutty flavor and doesn't taste anything like tofu, which pretty much tastes like nothing. it's also very high in protein an calcium. so take that, meat eaters!
daiya mozzarella style shreds:
daiya has pretty much cornered the market when it comes to making
THE BEST
cheese substitute out there. for the first several months that i was vegan, i figured i could kiss the "good tasting cheese substitute" dream goodbye. for whatever reason, most vegan cheeses don't really melt, stretch or taste very good. this cheese does! it comes in the only three flavors i'll ever need (mozzarella, cheddar, and pepper jack). this is not a soy-based product, it's main ingredients are tapioca and/or arrowroot flours and non-GMO expeller pressed oils. and of course, being totally plant based, it's free of cholesterol, preservatives, hormones and antibiotics. can you say that about your cheese? didn't think so!
tofu:
tofu is a food made by coagulating soy milk and then pressing the resulting curds into soft white blocks. it's high in protein and calcium and it's known for its ability to absorb new flavors through spices and marinades.
i've heard from a lot of people that they think tofu is gross, because it looks like a big sponge and doesn't have any flavor...i'm sorry...how appetizing does
anyone
think raw chicken breasts or porterhouse steaks are before they get seasoned and cooked? not very? right? k, so can you people shut up about tofu now?
s
ilken
tofu (used in the following recipe), is undrained tofu that contains the highest moisture content of all tofu. salad dressings, sauces and desserts usually use silken tofu for a thick and creamy texture, whereas regular tofu is used in stir fries and other recipes where you want it to retain it's shape.
i will throw in this once only disclaimer that while i didn't "create" this recipe, (or any recipe that i'll post in the future) i didn't just cut and paste it from another website. i have taken it and perfected it to the way that i think it comes out best, so that is the version you will see...anyway, no one really has a truly "original" idea. everyone copies everyone. remember the whole lady gaga/madonna "born this way"/"express yourself" debate?
Buffalo Tempeh Chunk Pizza
Ingredients:
1/3 cup earth balance margarine, melted
1/2 cup hot sauce
8 ounce package tempeh, cut into small cubes
water
2 teaspoons olive oil
16 oz fresh pizza dough
1 1/2 cups daiya mozzarella style shreds
bleu-soy dressing:
1 (12 ounce) box silken tofu
1 small clove garlic, finely minced
dried or fresh dill (finely chopped if fresh), to taste
apple cider vinegar, to taste
tahini, to taste
salt, to taste
Directions:
1. Preheat oven to 450 degrees F. In a small bowl, whisk together the earth balance and hot sauce. Place tempeh in a small pan and add water until almost covered. bring this to a boil over medium high heat, and cook until most of the water is absorbed/evaporated, about 10-15 minutes. Drain the tempeh, then return it to the pan with the olive oil over medium heat.
2. Fry the tempeh, stirring only occasionally, until it browns nicely. When done, turn off the heat and add a few tablespoons of the hot sauce mixture and stir to evenly coat everything. Set aside.
3. For the bleu-soy dressing, place all ingredients in a food processor and blend until smooth. Roll out your pizza dough onto a pizza stone and brush the edges with a little olive oil. Brush the interior of the dough with a thin layer of the hot sauce mixture. sprinkle the mozzarella style shreds on top of this, followed by the tempeh.
3. Drizzle the rest of the hot sauce over the top and then dot the pie with dabs of the bleu-soy dressing. Bake for about 10-15 minutes.
Makes: 1 pie (about 8 servings), Preparation time: 25 minutes, Cooking time: 10-15 minutes